Bedrock Radio has a heritage that spans back over 50 years! Hospital Radio in Havering started off as two separate organisations, Oldchurch Radio and Harold Wood Radio.
Early Days of Hospital Radio in Havering.
Hospital Radio at Oldchurch Hospital had a few different names in its duration from Rush Green Hospital Radio & Radio 174, named after the bus route that went to the hospital and finally before the merger in 2002, Oldchurch Radio. Before that the station was believed to have been started by a vicar that used to play records.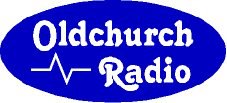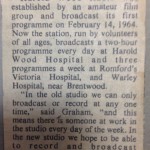 Meanwhile, at Harold Wood Hospital, Volunteers from the Amateur Film Group set up 'Harold Wood Radio' with the first shows broadcast on 14th February 1964.
As the station grew and become more established it became 'Harold Wood Hospital Radio' (HWHR), the group also provided programmes to Warley Hospital near Brentwood and later to Victoria Hospital in Romford. Read more about Harold Wood Radio.
Read more about Harold Wood Radio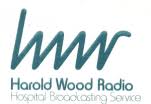 In 2000 the NHS Trust who operated both Oldchurch & Harold Wood Hospitals wanted a single radio station to serve both hospitals, until the completion of the new Queen's Hospital in 2006. 
After much negotiations regarding studio location, site transmission links & setting up a new association, the members of both Oldchurch & Harold Wood Hospital Radio came together creating Bedrock, making it a new registered charity on 22nd June 2002.
The newly formed Bedrock used the former Oldchurch studio facilities, broadcasting on 846AM (induction loop) to Oldchurch Hospital with a direct link to Harold Wood Hospital, broadcasting on channels one and two on the bedside radio system. With the first programmes being broadcast on December 1st 2002 and the station being branded as Bedrock AM.
Listen to a selection of Bedrock AM 2006 – 2009 station jingles;


Moving Studios – Queen's Hospital.
In 2006 broadcasting ceased at Oldchurch hospital as the newly built Queen's Hospital opened.
The Hospital Trust provided us with three rooms, giving us a studio, office & storeroom in the aptly named 'Hospital Radio Corridor'. It was an opportunity for a fresh start and a brand new studio was created.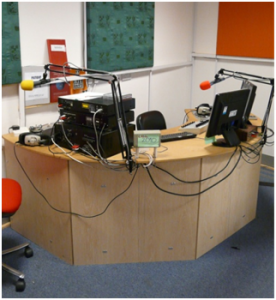 While the new studio was being built, volunteers started digitising the extensive vinyl collection. Due to the new facilities being smaller we where unable to accommodate our vinyl collection that had built up over many years, sadly all of our records have now been sold off. We do have a large digital collection of music that is easy to access for our presenters.
During the studio construction, Bedrock were being plugged into the new bedside TV systems, run by Premier Telesolutions, with Hospital Radio being Channel One as part of the FREE entertainment offered.
By 2009 the new studio & Premier were operational and programmes commenced broadcasting at Queen's Hospital.
Royal Opening – 'The Cornwall Suite' Studio.
To celebrate our new studios and to re-launch broadcasting in our new home at Queen's, our studio was officially opened by HRH Duchess of Cornwall, Camilla on January 22, 2009. 
A whole host of volunteers past & present where invited to celebrate the re-launch Bedrock. In honour of our royal opening, the studio has been named "The Cornwall Suite".
HRH Camilla made a song request of ABBA's – Mamma Mia, before visiting the Coral ward to hear her song request & visit patients.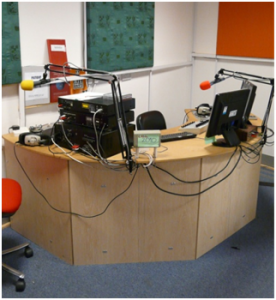 On Air – Queen's Hospital.
Bedrock wasn't fully 24/7 by the time we came back on-air in 2009, but the station soon invested in a basic sustaining play-out software that made us a 24 hour station and could be used with Live Shows.
We had a lot of work to rebuild our name from the three years off-air.
A new jingle package was introduced as Bedrock dropped the AM suffix (following the sale of the AM Induction loop transmitter) and needed to re-identify ourselves with our commitment to patient entertainment.
Listen to the Bedrock 2009 – 2016 Jingle Package;
During 2011 the phrase 'Your Friendly Station, Your Friendly Choice' was starting to sound very tired, it served it's purpose to rebuild our profile within the Queen's Hospital, we dropped the phrase by the end of the year.
To realign the station in order to compete with the other mainstream stations on offer from the Premier Telesolutions system, we then focused our on-air phrase as 'Timeless Classics & Requests' getting more to the point of what we do!
Bedside TV Problems - Queen's Hospital
In 2015 the Premier Telesolutions bedside system suffered massive decline in working bedside TV units, leading to patients paying for TV's that didn't work, or where missing altogether.
The Hospital Trust therefore decided to change providers of Bedside Entertainment, In mid 2015 a new system was to be trailed for potential future installation around Queen's Hospital.
Summer 2018 All Premier Telesolution TV equipment has been been removed. However the new system trail has not progressed any further. leaving the vast majoirty (approx 90% of wards) without any form of patient entertainment.  
Celebrating 10 years of Bedrock.
During 2010, we celebrated 10 years of Bedrock. As a birthday surprise the Committee planned a modernisation project to replace ageing equipment and software. With a projected cost of up-to £10,000 being spent on new software, mixers and IT equipment.
Throughout 2012/2013 we started the upgrade on our studio facilities with more advance software and powerful hardware. Our main studio was ripped apart with a new desk installed, allowing for workspace, guests and better use of the room.
Our I.T network received an upgrade too with more up-to-date hardware and software to help future proof the station with additional servers & workstations, allowing our files and music to be stored more securely. Plus the extra workstations enable our volunteers to produce more on-air content and develop features.
As part of the major upgrade Bedrock invested in new professional broadcast software, Myriad as our main system, which is flexible enough to find requested songs and powerful enough to select music that we know patients like to hear. While the new equipment may look small, we can assure it's very powerful stuff. (Our Engineer thinks some mainstream stations ought to be jealous!).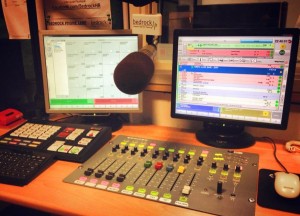 2014: 50 years of Hospital Radio in Havering.
2014 we celebrate 50 years of Hospital Radio in Havering, thanking volunteers past and present for years of helping keep patients entertained in our local hospitals & reflecting at the changes, from early days of providing just a few hours of entertainment a day to a full 24/7 broadcasting service from all our founding stations.
To mark the 50th anniversary of Hospital Radio in Havering, we launched our web-stream allowing Staff, out-patients & relatives of patients in Hospital in the local area to listen online or via their smartphones. Bedrock volunteers where joined by the Mayor of Havering on Sunday 16th February to mark the milestone and launch the new 'listen live' service.
Goodmayes Hospital Radio Merger.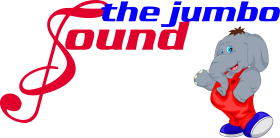 In March 2016 Bedrock was approached by neighbouring station Goodmayes Hospital Radio Association (GHR) broadcasting as 'The Jumbo Sound' in regards to a merger following water damage to their studios.
History of Goodmayes Hospital Radio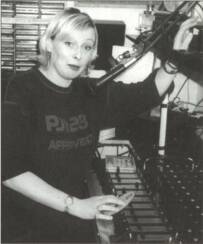 The Goodmayes Hospital Radio Association (GHR) was founded in 1977 when it started broadcasting to the patients of Goodmayes Hospital. Ilford. When neighbouring King George Hospital opened in 1993 Goodmayes Hospital Radio extended it's reach to serve the then new site.
In 2004 Goodmayes Hospital Radio changed it's on-air name to The Jumbo Sound (which curiously later became name of the radio station in Holby City!) On June 25, 2006 The Jumbo Sound began broadcasting on the internet as a new means of reaching the somewhat disbanded audience. Additionally the station launched it's new blue and red logo ahead of the big 30th anniversary celebrations. The anniversary was celebrated with special programmes, guests appearances by old volunteers.
Towards the end of 2007 The Jumbo Sound moved studios from the original upstairs location on 'The Bridge' to a downstairs location offering more space and better disabled access. In 2008 NELFT, awarded Goodmayes Hospital Radio a generous grant to update their broadcasting equipment in the new room. Sadly upon moving studios the link to King George Hospital was lost, but the station remained broadcasting to Goodmayes Hospital and online.
Listen to a selection of the Jumbo Sound 2007 – 2016 station jingles;
2015: 40 Years of Goodmayes Hospital Radio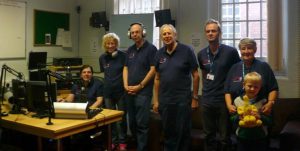 Throughout 2015, Goodmayes Hospital Radio Association celebrated it's 40th anniversary, with the Mayor of Redbridge visiting the studios along with new and old volunteers. In November 2015 the studio suffered major equipment damage following a radiator bursting and its subsequent humidity forcing the station off-air.
While insurers evaluated the cost of the damaged equipment, the remaining volunteers discussed the future of the station. Following volunteer numbers and income dwindling, The remaining members voted to close merging with Bedrock to continue the station's legacy.
As of April 2016 the remaining volunteers of The Jumbo Sound came over to Bedrock with service being restored to Goodmayes Hospital in the form providing a relay of the programmes from Queen's Hospital while the Goodmayes Studio undergo refurbishment. In June 2016, the refurbishment was complete with the first Live shows broadcast from the Goodmayes Studio in eight months.
2016: Bedrock Radio Expands
As a result of the merger with Goodmayes Hospital Radio (The Jumbo Sound) in 2016, equipment and resources needed to be relocated and changes made to accommodate the extra station. Resulting in both studios; Queen's Hospital & Goodmayes hospital studios undergoing refurbishment.
It was decided that the studio at Queen's Hospital would remain as the focal point of Bedrock. With the Goodmayes Hospital studio being a secondary studio, due to most live programmes coming from Queen's it was decided the larger Sonifex S2 mixer from Goodmayes would be relocated to Queen's subsequently the smaller Sonifex S0 Mixer from Queen's be installed at Goodmayes.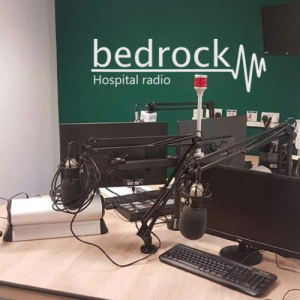 We consulted with Broadcast Radio to find the best way of creating our radio network & to also order our new furniture for the Mixers.
Our most cost effective and resourceful way of operating is by networking the two studio sites together using our playout Software Myriad, With the majority of programmes broadcast from Queen's Hospital being relayed and broadcast to Goodmayes Hospital. We have the capacity for a localised show to be broadcast specifically from the Goodmayes Studio, while a separate shows is broadcast from Queen's.
The studios have both received a repaint, along with new bespoke furniture, making the facilities appear very fresh & modern.
Bedrock Radio Network - On-Air Modernisation
To adapt to our wider audience following the Goodmayes merger,  Bedrock dropped 'For Havering' from our logo. We now identify as a 'Health & Hospital' radio station with a new on-air slogan of Your Healthy Music Mix which has found it's way into our new on-air jingle package, along with some hospital specific sweepers for the networked sites.
Listen to a sample of the Bedrock Radio 2016 – Jingle Package;
Great Memories, Classic Hits. Bedrock Gold is a brand new station, that plays 'Golden Oldies'
The station was developed from survey results from patients music tastes and request slips over the course of two years. 
Our results showed a diverse range of music that matches the age ranges across the hospitals we serve, from Sam Smith to Frank Sinatra, Adele to Vera Lynn.
Our survey also highlighted massive jumps between the music decades was making it hard to retain listeners, the results showed while some of us prefer listening to great time oldies from the 50s 60s and 70s. Others wanted 80s, 90s 00s and today's chart, but would hardly cross over or would turn off if too much of the other was played.
In 2016 We made the bold decision to start splitting our station up and create a second channel that caters towards our older audience, and those who love the music from yesteryear!
Bedrock Gold plays a selection of daily programmes. We are yet to to officially launch Great Memories, Classic Hits, Bedrock Gold (we will make the station official following further installation of new Bedside TV's at Queen's Hospital) you can currently listen online & mobile.
Listen to the Bedrock Gold Jingle Package;
In June 2016, Bedrock launched our very own mobile app, thanks to the team at at Cyclone Digital.
Patients & staff often bring their smartphones into hospital, and many outpatients and staff now own mobile devices that can access the internet, along with broadband access at home and work. We decided to develop an app that not only allows you to listen live, but also receive updates such as News, Weather, Travel plus song updates too!
As of October 2018 we where successful in registering a new charitable incorporated organisation, this modern charity format allows for more flexibility in our operations, and essentially makes our charity Bedrock Radio similar to that of a Company Limited by Guarantee.
Formally, we are closing our old unincorporated association charity Bedrock (1094330) and we are operating as Charitable Incorporated Organisation Bedrock Radio (118076)
Bedrock Radio has list of ideas we would like to achieve in the next five to ten years. 
All our future plans must help further our charitable objective. 
Convert to CIO Status & Operate the new charity structure successfully. 
Upgrade ward speaker system at Goodmayes Hospital (Ilford).
Extend our reach across all BHR Hospitals Sites. (Including waiting rooms).
Recruit new active volunteers to further the CIO charitable objective, and introduce new skills.
Continue to build relationships with NELFT and seek to expand across their local clinics. 
 Raise further awareness of Bedrock Radio & encourage local people to 'Make the switch to Your Healthy Music Mix' to keep updated and receive health information.
Encourage small local health & well-being charities to work with us to promote their causes.
Encourage larger charities and companies to work with (or sponsor) Bedrock Radio.
Develop an on-air sports show, with a focus on local sports to encourage local fitness and support.
Introduce interactive content to Bedrock GOLD, to engage with local elderly care homes.