Hospital Radio at Oldchurch Hospital had a few different names in its duration from Rush Green Hospital Radio & Radio 174 (named after the bus route that went to the hospital) and finally before the merger in 2002, Oldchurch Radio.
Before that the station was believed to have been started by a vicar that used to play records around the hospital.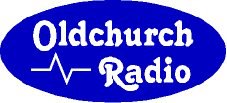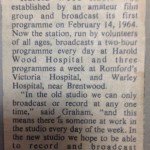 Meanwhile, at Harold Wood Hospital, Volunteers from the Amateur Film Group set up 'Harold Wood Radio' with the first shows broadcast on 14th February 1964.
As the station grew and become more established it became 'Harold Wood Hospital Radio' (HWHR), the group also provided programmes to Warley Hospital near Brentwood and later to Victoria Hospital in Romford. Read more about Harold Wood Radio.
Read more about Harold Wood Radio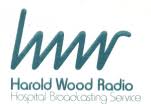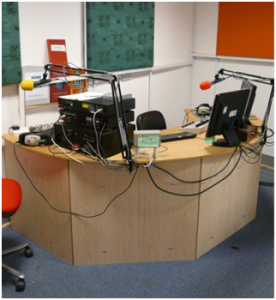 While the new studio was being built, volunteers started digitising the extensive vinyl collection. Due to the new facilities being smaller we were unable to accommodate our vinyl collection that had built up over many years, sadly all of our records have now been sold off. We do have a large digital collection of music that is easy to access for our presenters.
During the studio construction, Bedrock were being plugged into the new bedside TV systems, run by Premier Telesolutions, with hospital radio being on channel one as part of the free entertainment offered.
By 2009 the new studio & Premier were operational and programmes commenced broadcasting at Queen's Hospital.
To celebrate our new studios and to re-launch broadcasting in our new home at Queen's Hospital, our studio was officially opened by HRH Duchess of Cornwall, Camilla on January 22, 2009. 
A whole host of volunteers past & present where invited to celebrate the re-launch Bedrock. In honour of our royal opening, the studio has been named "The Cornwall Suite".
HRH Camilla made a song request of ABBA's – Mamma Mia, before visiting the Coral ward to hear her song request & visit patients.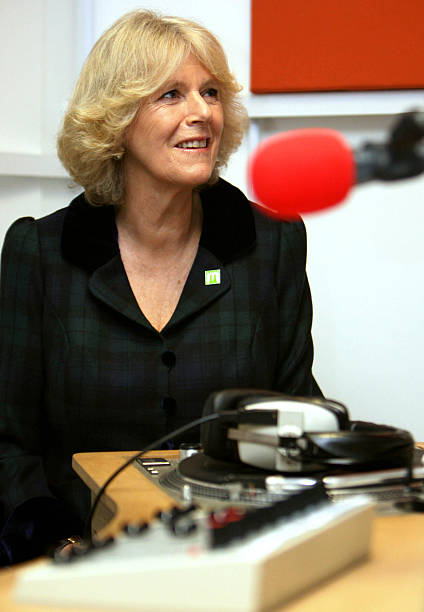 Throughout 2012/2013 we started the upgrade on our studio facilities with more advance software and powerful hardware. Our main studio was ripped apart with a new desk installed, allowing for workspace, guests and better use of the room.
Our I.T network received an upgrade too with more up-to-date hardware and software to help future proof the station with additional servers & workstations, allowing our files and music to be stored more securely. Plus the extra workstations enable our volunteers to produce more on-air content and develop features.
As part of the major upgrade Bedrock invested in new industry standard broadcast  software, Myriad as our main system, which is flexible enough to find requested songs and powerful enough to select music that we know patients like to hear. 
(Our Engineer thinks some mainstream stations ought to be jealous of our set up!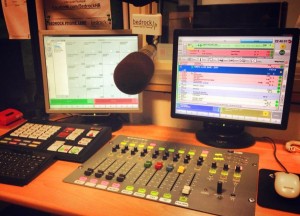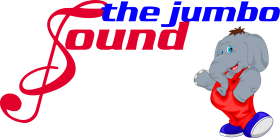 In March 2016 Bedrock was approached by neighbouring station Goodmayes Hospital Radio Association (GHR) broadcasting as 'The Jumbo Sound' in regards to a merger following water damage to their studios.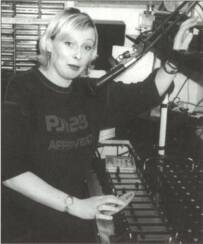 The Goodmayes Hospital Radio Association (GHR) was founded in 1977 when it started broadcasting to the patients of Goodmayes Hospital. Ilford. When neighbouring King George Hospital opened in 1993 Goodmayes Hospital Radio extended its reach to serve the then new site.
In 2004 Goodmayes Hospital Radio changed its on-air name to The Jumbo Sound (which curiously later became name of the radio station in Holby City!) On June 25, 2006 The Jumbo Sound began broadcasting on the internet as a new means of reaching the somewhat disbanded audience. Additionally, the station launched its new blue and red logo ahead of the big 30th anniversary celebrations. The anniversary was celebrated with special programmes, guest's appearances by old volunteers.
Towards the end of 2007 The Jumbo Sound moved studios from the original upstairs location on 'The Bridge' to a downstairs location offering more space and better disabled access. In 2008 NELFT, awarded Goodmayes Hospital Radio a generous grant to update their broadcasting equipment in the new room. Sadly, upon moving studios the link to King George Hospital was lost, but the station remained broadcasting to Goodmayes Hospital and online.
Goodmayes - 40 Years of Goodmayes Hospital Radio (2015)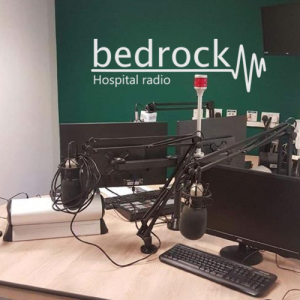 We consulted with Broadcast Radio to find the best way of creating our radio network & to also order our new furniture for the mixers.
Our most cost effective and resourceful way of operating is by networking the two studio sites together using our playout software Myriad. 
Brining both Queen's and Goodmayes studios together to share the same automation service and some shared programmes from our main studio at Queen's Hospital, which is then relayed and broadcast to Goodmayes Hospital.
(This is similar practice to what commercial stations like Heart, Capital and Magic do, but on a much smaller scale) 
Meanwhile the Studio at Goodmayes has the capacity for localised live programmes to be broadcast specifically from the Goodmayes Studio, while a separate show is broadcast from Queen's.
The studios have both received a repaint, along with new bespoke furniture, making the facilities appear very fresh & modern.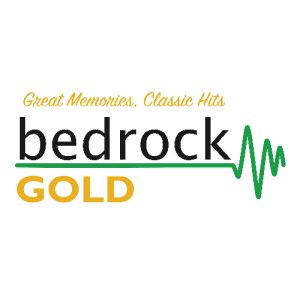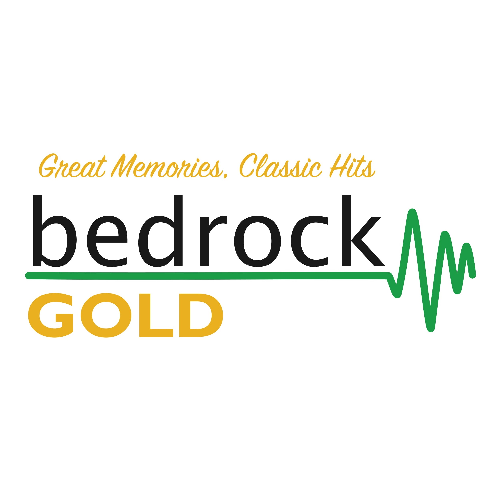 Bedrock GOLD was developed from survey results from patients music tastes and request slips over the course of two years. 
Our results showed a diverse range of music that matches the age ranges across the hospitals we serve, from Sam Smith to Frank Sinatra, Adele to Vera Lynn.
Our survey also highlighted massive jumps between the music decades was making it hard to retain listeners, the results showed while some of us prefer listening to great time oldies from the 50s 60s and 70s. Others wanted 80s, 90s 00s and today's chart, but would hardly cross over or would turn off if too much of the other was played.
In 2016, during the creation of the Bedrock Radio Network, we made the bold decision to start splitting our station up and create a second channel that caters towards our older audience, and those who love the music from yesteryear!
Spring 2017 Great Memories, Classic Hits, Bedrock GOLD has been softly launched appearing on our mobile app, The station is mostly automated, with a selection of regular daily programmes playing music from 40s to the 80s and specialist in Rock & Roll, Jazz, Classical plus much more. Bedrock GOLD is currently available online for the social inclusion of older persons across the wider health community.
Great Memories, Classic Hits, Bedrock GOLD features on our mobile app, on smart speakers and online at gold.bedrockradio.org.uk.
1964
The Beginning
It's unknown when Oldchurch / Rush Green radio started. but it's believed to be around the same era as Harold Wood Radio formed in 1964. 
2002
Bedrock is Born.
New station "Bedrock AM" was formed in a merger between Harold Wood & Oldchurch Hospital Radio's.

Bedrock AM broadcast from the former 'Nurses Home' studios at Oldchurch & began broadcast on 846AM to Oldchruch Hosptial. & via bedside headsets at Harold Wood Hosptial
2006
Moving Studios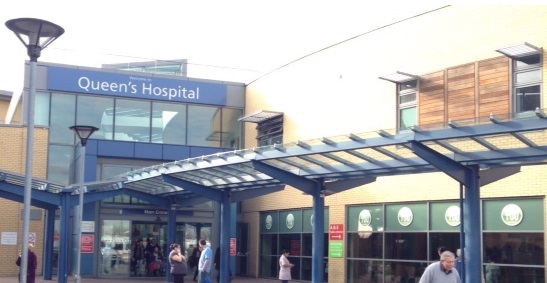 In 2006 we got handed the keys to our brand new suite of rooms!
We temporally ceased broadcasting as Oldchurch & Harold Wood hospitals shut down & all moved into the newly built Queen's Hospital Romford. 
2009
Royal Opening!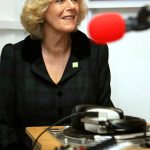 HRH Duchess of Cornwall Camilla officially opened our studios at Queen's Hospital, our studio suite being named;
'The Cornwall Suite' in honour of her visit. 
2012
Bedrock Turns 10
Bedrock Hospital Radio turns 10 years old & we reflect on what a busy 10 years it's been & being a five years programme of upgrades & improvements. 
2014
50 Years Of Broadcasting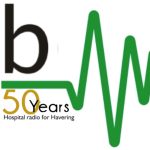 We celebrate 50 years of Hospital Radio for Havering (HRFH).
Celebrating our early days of Harold Wood & Oldchurch, plus more recent events such our royal visit. 
2016
Goodmayes Merger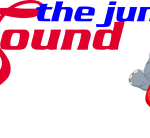 Goodmayes Hospital Radio (Jumbo Sound) started in 1977, The station celebrated it's 40th anniversary in 2015, however a burst radiator knocked the station off air, the lack of funds the station closed & merged with Bedrock Radio. 
2016
Bedrock Radio Network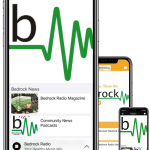 We restructured the charity following the merger with Goodmayes. 
We created Bedrock Goodmayes, to honour the legacy of The Jumbo Sound & serving patients. 
We took the opportunity to create Bedrock GOLD, our oldies station for older people in the community. 
We launched mobile apps & redesigned our website to reflect our changes & commitment to serve our communtiy.
2018
Charitable Status Change
Following all the changes & progress we made since 2002, we made the decision to change our charitable status with the Charity Commission to a  new charitable incorporated organisation (CIO). 
Registered at Bedrock Radio, our CIO status gives us more flexibility to operate & serve our community better.