Become a member of Bedrock Radio.
Bedrock Radio is run entirely by volunteers, with a common objective of helping relieve the effects of pain and illness and promoting the benefits of living a healthy lifestyle for the public benefit.
Hospital radio is an exciting place to develop communication skills & enjoy the challenges of meeting new people & fundraising. 
All we ask is that you can help us fulfil our objectives.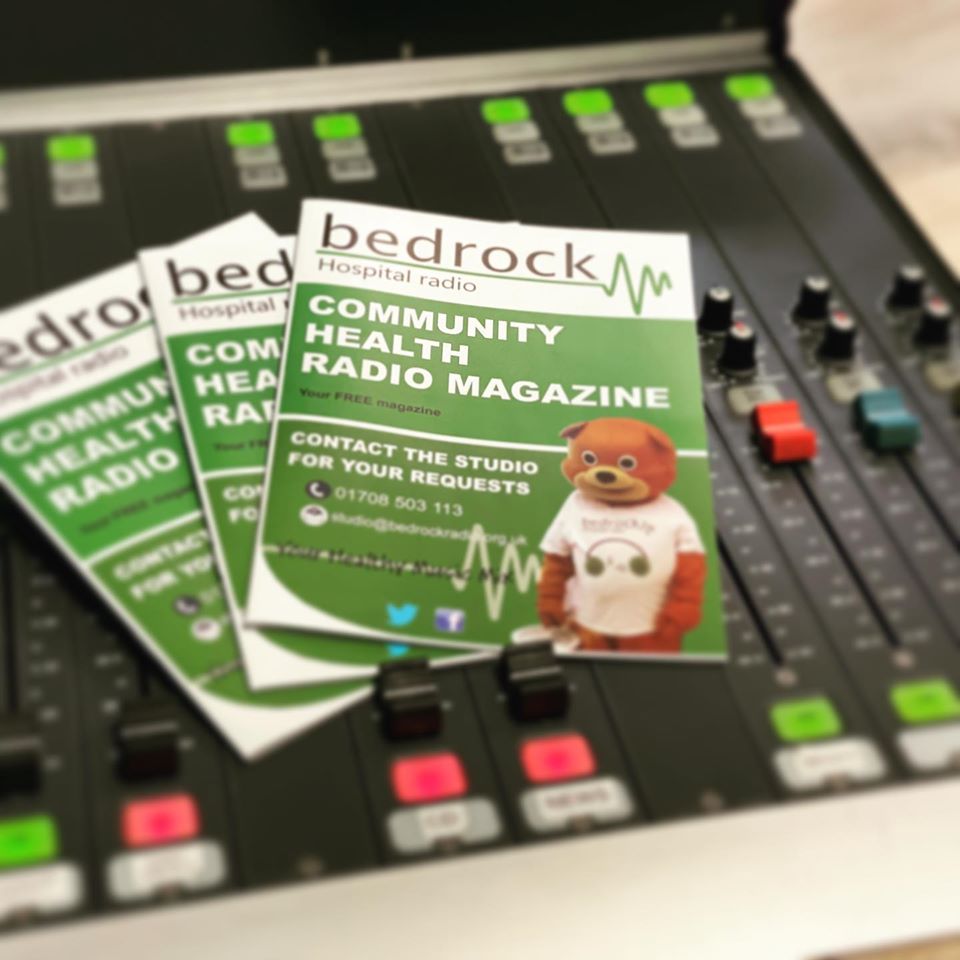 Our objective is simple
We provide a community broadcasting service that focuses on health and well-being for people living and around the London Boroughs of Havering, Barking and Dagenham, and Redbridge. We aim to provide relief of sickness, poor health and old age amongst patients in Queen's, King George & Goodmayes Hospitals, plus outreach to residential homes and similar institutions, and for patients receiving community care.
Working with our community to promote the benefits of living a healthy lifestyle, and the importance of maintaining a good personal mental and physical health, helping make our community a better, safer and healthier place to be.
Bedrock Radio needs volunteers in all shapes and forms;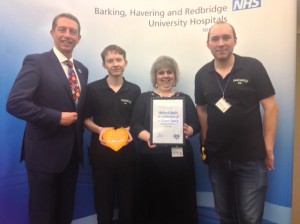 Ward Visitors: who visit the wards of hospitals (Goodmayes, Queen's, King Georges) befriending patients & collecting song requests, chatting to patients & helping them get tuned into our stations.
Mobile Books: Our team of ward visitors at Queen's Hospital, who take our Bedrock Books trolley out to the patients, to have a chat & give out books as part of Bedrock Books mobile library.  
Fundraisers & Promoters: Who bring money in to keep us on-air, plus promote the station across the community. 
Producers & Presenters: who host the shows, record interviews, make news bulletins and create podcasts.
Engineers: who keep us broadcasting, fixing things if they go wrong.
Trustees: who oversee the day-to-day operations of the whole charity 
You will receive all the training you need to become an integral part of the hospital radio team.
You will be introduced to the equipment and procedures of the hospital & studios, such as infection control techniques & what to do if things go wrong. 
Should you wish to progress to become a presenter, you'll be trained in presentation techniques and on the technical equipment in the studio.
You'll also have the opportunity to learn and practice all sorts of other skills, from fundraising to setting up outside broadcast events, and from interviewing to management and committee work
We have help guides so volunteers can learn at their own pace. 
We DO NOT offer work experience placements of any kind.
Due to not having regular members of staff on-site during the daytime, our hours of operation are unsuitable for the bodies that issue work experience placements. However, you could volunteer with us more long-term to help develop your skills.
Bedrock Books - REMAINS CLOSED
Due to Coronavirus, we've temporally closed our volunteer applications for our mobile library Bedrock BOOKS. For the safety of patients & our volunteers, Bedrock BOOKS remains temporally closed as it requires visiting the hospital wards.
Sport Programme Volunteers
Do you love sport? We're making a new "Saturday Sports" programme & are looking for volunteers to help report on the latest local sporting action! The team will research, prepare & produce regular updates along with an hourly bulletins from the studio & potentially live reports from the venues! Bedrock Radio is eager to cover The Daggers, Urchins, Boro, Millers, Romford Raiders, Essex Cricket & other truly local sport. If you've got a few hours to spare on a Saturday, then we'd love for you to apply when our volunteer Recuitment reopens!
Ready to start Volunteering at Bedrock Radio?
Complete the form below, we'll be in touch.
Bedrock Radio is a Registered Charitable Incorporated Organisation (CIO) No. 1180476. Registered with the Charity Commission for England & Wales. 
All Volunteers MUST undergo a Disclosure & Barring Service (DBS) Check, plus an Occupational Health Clearance this is a requirement of BHRUT & NELFT NHS Trusts. 
There are different levels of membership of the Charity, Full membership of the CIO is subject to an annual membership fee.
None of our Volunteers are paid, This includes the Trustees. 
All volunteer members are able to voice their opinions & share ideas to benefit the running of the charity.  
Successful Applicants will be invited in for interviews and training sessions. Failure to attended these without notice may result in termination of membership to the CIO.
Read more: Information On Volunteering