In January 2010, we started BEDROCK BOOKS, which visits the wards at Queens Hospital throughout the week. We have a wide variety of soft-back books, for all ages and tastes. All we ask is 20p per book.
We ensure that all donated are in good condition and all book covers are cleaned with antibacterial wipes before taking them around the wards. We find our most popular choices for ladies are romance novels, and men enjoy detective novels.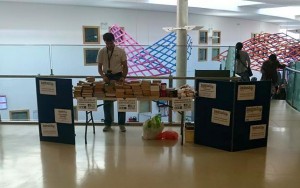 In 2015 due to surge in book donations, we began holding weekly 'books on the balcony' book stall in the Foyer of the hospital, right outside out studios, these have proved massively popular with staff and visitors. Plus we often sell some seasonal items and snacks along with our books.
As far as we know, we're the only Hospital Radio station in the UK (and possible the world) that operates our own book service. We understand not everyone wants to listen to the radio or pay for their bedside TV.
If you are interested in volunteering with our books service then please register your interest in volunteering with us.